About
In the summer of 2020 a small group of passionate dung beetle devotees got together to try help these vital ecosystem engineers; this website is the first step in realising that vision.
By producing a website filled with information for farmers, livestock and land owners, vets and anyone with an interst in supporting nature we hope to promote dung beetles and give pragmatic advice as to what you can do to help them.
The team have all given their time and expertise to the project to get the message out there.
The Experts
Max Anderson
(PhD student, The University of Sussex)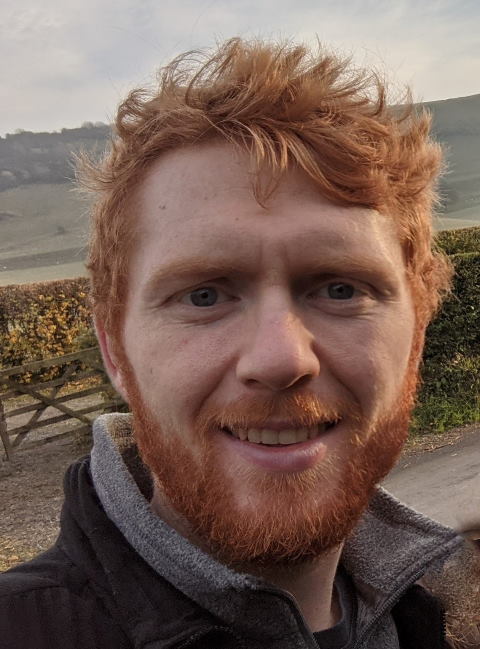 I'm a PhD student at the University of Sussex, studying the impacts of livestock management practices on wildlife. My work so far has focussed on bats and their invertebrate prey, analysing any differences in abundance, diversity and activity between management practices. I have been conducting fieldwork on Pasture Fed Livestock Association (PFLA) farms across the South of England, looking at how the permanence of pasture and mob grazing systems impact bats and their invertebrate prey.
Dung beetles became of particular interest for me, given their importance as prey items for 3 out of the 18 bat species in the UK, and the significant role they play in provision of ecosystem services.
During my PhD, I also aim to contribute towards a 'parent project'; Sustainable economic and ecological grazing systems - learning from innovative practitioners (SEEGSLIP), based at the Centre for Ecology and Hydrology. The SEEGSLIP project will not only be looking at the ecological impacts of livestock farming practices, but also at the economic and social dimensions. I'm driven to build greater awareness for the importance of conserving and enriching wildlife in agriculture, by promoting the benefits provided by bats, dung beetles and other species. I'm particularly keen to help farmers and landowners understand the ecological impacts of management practices by sharing my knowledge and summarising relevant scientific literature.
Bruce Thompson
(Dairy farmer and Nuffield Scholar)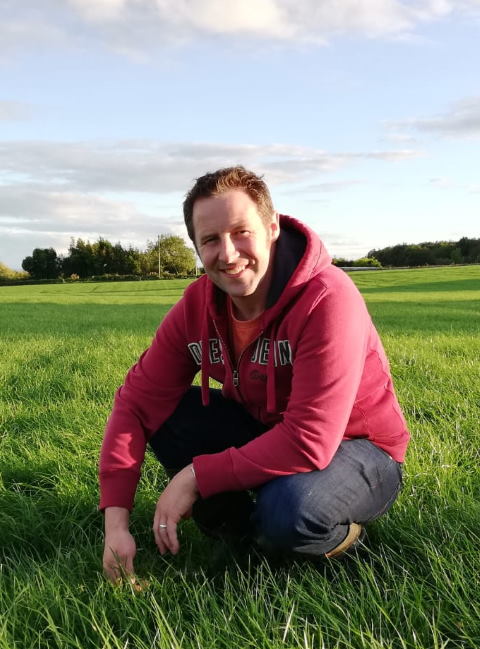 © Bruce Thompson
My name is Bruce Thompson and I'm a dairy farmer from Portlaoise in the centre of Ireland.
With a 3rd level education in engineering, I came home to farm 20yrs ago.
We milk 320 cows on a conventional grass based system with an emphasis on grazing grass to produce milk solids. We take animal health seriously and strive to achieve good fertility and production performance. We keep all young replacement stock on farm. Parasite control is one of the key components to our farm and we have adopted a more "sustainable" approach to our anthelmintic (wormer) usage by developing novel grazing practices.
On our farm, I give a lot of credit to the dung beetle for doing his part in reducing parasite burdens. We have significantly reduced anthelmintics on our farm over the last number of years and I firmly believe these little invertebrates have played a major role in this. With this in mind, I have received a Nuffield Scholarship to travel to parts of the world to investigate the benefits of encouraging dung beetles to combat anthelmintic resistance while benefiting the environment... and saving farmers money in the process!!!
Sally-Ann Spence
(Dung beetle expert)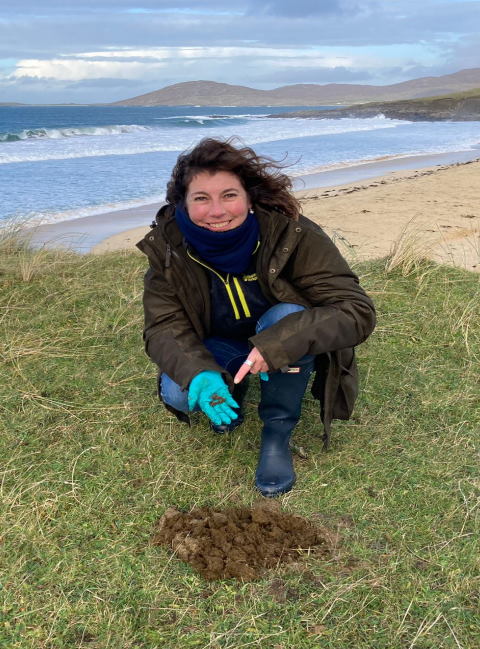 © Sally-Ann Spence
I am Fellow of both the Royal Entomological Society and the Linnaean Society and an Honorary Associate at the Oxford University Museum of Natural History.
Specialising in dung beetles and pastureland biodiversity I founded the UK Dung Beetle Mapping Project accumulating species data. My work with the project saw me surveying field sites all over the UK, and many outlying islands, including Jersey, enabling me to study a multitude of grazing systems. This practical experience has been translated into collaborative projects working on sustainable land management plans within the farming community to promote dung beetles as important bio-indicators for soil, pasture and livestock health.
I also own and run an educational research centre Berrycroft Hub based on my family farm where I keep PFLA accredited livestock and manage all the grassland. As a passionate advocate of British farming and biodiversity, I do a great deal of scientific public outreach at my centre, in colleges, universities, museums and at various events around the UK. Slightly obsessed with insects, I can be found discussing dung beetles on radio and other media platforms including television.
Claire Whittle
(Veterinary Surgeon and Nuffield Scholar)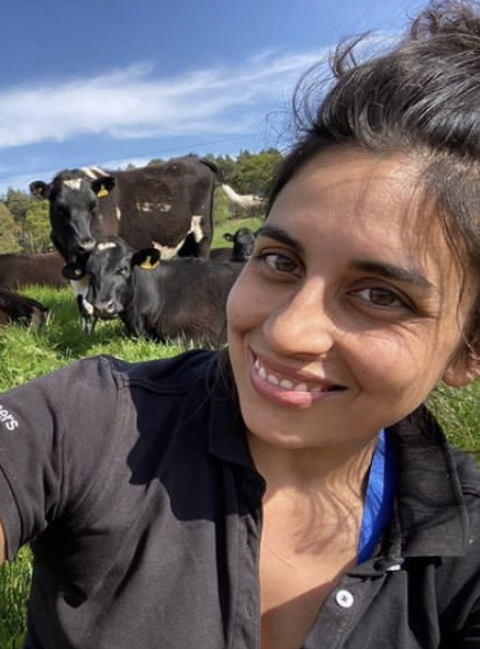 © Claire Whittle
I am a veterinary surgeon who has been working in farm practice for the past six years both in the southwest and further north near my hometown of Liverpool – although there's not so many cows there! Recently, I have undertaken a Post Graduate Certificate in Conservation Medicine which has consolidated my interest in regenerative agriculture and the principles of ecosystem health on our farms. Dung beetles are play a role in these ecosystems and I have become quite the 'poo fiddler', often found guddling about in cow muck on my evenings off.
I have also received a 2021 Nuffield Scholarship to study the benefits of regenerative agriculture on livestock health and welfare.
For me, as a vet, learning about the effects of ivermectin use on dung beetles alongside increasing levels of resistance to worming products in our livestock has forced me to think more about parasite control on my clients' farms and how we should only be using worming products when we really need to. The role of dung beetles in keeping nuisance fly populations under control is another reason why we should be encouraging dung beetles onto our farms.
I currently have a trial underway on a few herds where we are taking regular faecal egg counts before worming and only using worming products when they are required - a win for the dung beetles and the pocket!
Eleanor Slade
(Ecologist)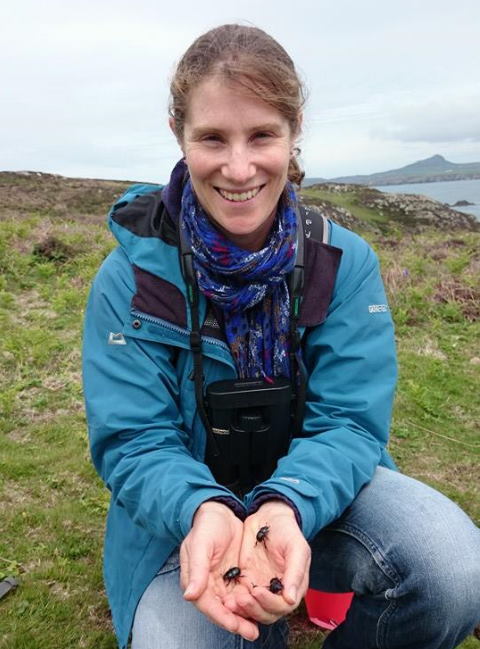 © Eleanor Slade
I am an ecologist whose research focuses on the conservation, management, and restoration of tropical and temperate forest landscapes and agricultural systems. I am particularly interested in invertebrates and have been studying dung beetles and their importance for healthy ecosystems for over 17 years. I am currently an Assistant Professor at the Asian School of the Environment in Singapore and hold a B.Sc. in Zoology from the University of Leeds, a M.Sc. in Ecology from Aberdeen University, and a D.Phil. in Zoology from the University of Oxford. I am also a Fellow of the Royal Entomological Society.
I have worked on the importance of dung beetles for healthy soils and in reducing greenhouse gases, such as methane, in pastures in Finland, and my lab is currently databasing the relatively understudied dung beetles of SE Asia, and investigating their interactions with forest mammals. I am keen for my research to have an applied focus, and I enjoy working with stakeholders outside of my native academia! I hope that my science can provide an evidence-base to help inform policy and best management practices, which is why I think Dung Beetles for Farmers is such an excellent initiative, involving lots of different people and backgrounds, but run for farmers by farmers. In my spare time I enjoy promoting the fascinating world of dung beetles to the younger generation (check out our TED-Ed animation and Frontiers for Young Minds article).
Project Co-Ordination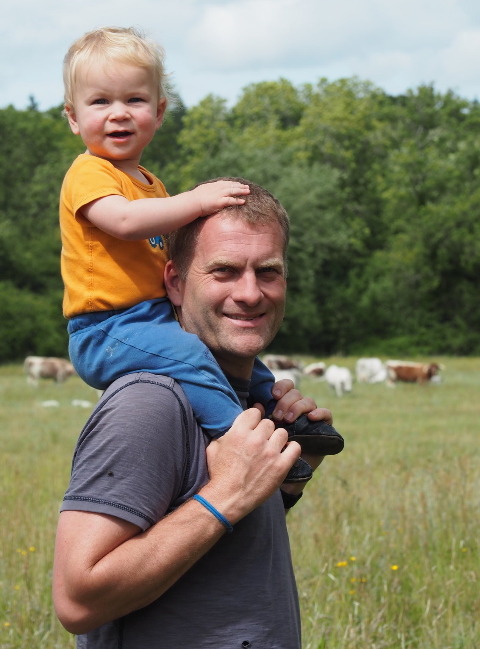 © James Allen
My wife and I are 1st generation farmers who only started keeping livestock about 9 years ago. We don't own any land and started out conservation grazing species rich wildflower meadows for other land owners in the Cotswold.
We now have 50 head of British White and English Longhorn cattle along with around 120 Castlemilk Moorit and Portland sheep. Since 2019 we have been grazing on the Bruern Estate offering prescriptive grazing to support wildflower meadows and soil health.
We sell our beef and lamb direct to consumers through a box scheme and direct to restaurants. We also produce hides and sheepskins for sale, having them tanned in the UK. My wife, Katie, has the wool from the sheep processed again in the UK; she then designs and hand makes high quality wool produce selling them under the brand Loopy Ewes
Grazing with nature is key to how we manage our livestock. A farm walk with Sally-Ann introduced me to dung beetles and the huge benefits they provide to pastures and soil health. These under appreciated warriors need all the help and support they can get.